Himachal govt takes over Dharamsala stadium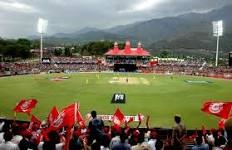 Shimla:In a well coordinated move late night Saturday the State government took over the Himachal Pradesh Cricket Association (HPCA) stadium and the adjoining Pavillion hotel in Dharamsala .
The HPCA is headed by Hamirpur MP Anurag Thakur who is also the son of the opposition leader in the state assembly P K Dhumal .
The state government has also decided to take back all land allotted to the HPCA at Shimla , Bilaspur , Gumma , Hamirpur and Nadaun , sources told Sun Post .
The state government has charged the HPCA of several violations including fraud .
This move has suddenly heated up the political situation in the hill state ahead of the Lok Sabha polls .