Himachal ministers vouch by Virbhadra's health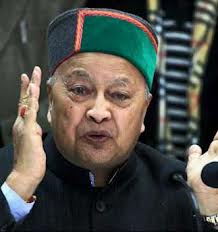 Shimla : Most of the ministers in the Virbhadra Singh led Congress government in Himachal Pradesh Wednesday dismissed speculations that there were plans to appoint a working chief minister
Reports in a section of the media claim Wednesday that Virbhadra , 78 , may soon go abroad for medical treatment and a working chief minister could be appointed in his place .
"Virbhadra Singh is hale and hearty and is devoting over 16 hours to his work . It is clarified that there is no truth in the report that he is going abroad for any medical treatment ," the statement issued by the senior most minister in the cabinet Vidya Stokes along with six other ministers said .
"The Congress government snatching power from the BJP in Dec 2012 has baffled and frustrated political opponents and adversaries who are resorting to malicious and mischievous propaganda through a section of the media to create confusion in the minds of people ," the statement  said .
The ministers said Virbhadra was strongly leading the Congress government in the state for a record sixth time as chief minister .
Besides Stokes who is the IPH minister , the other ministers to issue the clarification are power minister Sujan Singh Pathania . Industries minister Mukesh Aghnihotri . Forest minister Thakur Singh Bharmouri .
Urban Development minister Sudhir Sharma , Excise and Taxation minister Prakash Chaudhary and Social Justice minister Dhani Ram Shandil .
Two powerful ministers , Health minister Kaul Singh and Food minister G S Bali have not signed the statement .