Himachal merges Agro Ind with HPMC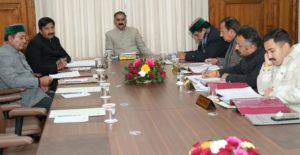 Shimla: In a surprise move the government today decided to merge the Himachal Pradesh Agro Industries Corporation Limited with Himachal Pradesh Horticulture Producing and Marketing Corporation. Both are state run companies.
The cabinet gave its nod to rename the Department of Environment, Science and Technology as the Department of Environment Technology and Climate Change.
The state cabinet also decided to bring the Himachal Pradesh Public Service Commission, within the ambit of Himachal Pradesh Prevention of Malpractices at University, Board or other Specified examinations Act, 1984 in order to avoid malpractices, to ensure fair and transparent selection of candidates on merit.
The Cabinet decided to roll out Himachal Pradesh Sadhbhawana Legacy Cases Resolution Scheme, 2023 initially for a period of three months to address the legacy cases.
The scheme aims to dispose-off approximately 50,000 cases still pending for assessment under various enactments of the pre-GST era. This scheme would facilitate the small and marginal traders and other taxpayers.
It decided to bring 90,362 MNREGA Workers, Ekal Nari and persons with more than 40 percent disability, registered Street Vendors and children living in the orphanages under the ambit of Ayushman Bharat –Pradhan Mantri Jan Aarogya Yojna.
It was also decided to fill up nine posts of Himachal Pradesh Administrative Services on regular basis through Himachal Pradesh Public Service Commission.
A cab8net sub committee has been formed to dispose-off all the matters of felling, removal and lopping of trees in territorial jurisdiction of Municipal Corporations of the state.
The Cabinet decided to restructure the financial assistance extended to Himachal Pradesh Power Transmission Corporation Ltd (HPPTCL) under Himachal Pradesh Clean Energy Transmission Investment Programme.
This will help HPPTCL in improvement of financial status and will assist in easy execution of existing and upcoming projects by availing financial assistance from domestic financial institutions
Approval was accorded for setting up a dedicated Centre for Science, Learning and Creativity at village Bhog, Anandpur (Shoghi) in Shimla to provide a forum to children to pursue their natural curiosity and to quench their thirst for creativity.
The Cabinet decided to approve the Draft Development Plan for Shree Chamunda Nandikeshwar Dham Special Area in Kangra district.
It also renewed the lease of land in favour of Mata Shyamakali Mandir Management Committee, Galma in district Mandi for a period of 40 years at the rate of Rs. 55,276 per annum.
The Cabinet accorded sanction for signing a MoU with the new centrally sponsored scheme of PM Schools for Rising India (PM SHRI) in the Centre-State ratio of 90:10.