Himachal golden Vidhan Sabha session live on Lok Sabha tv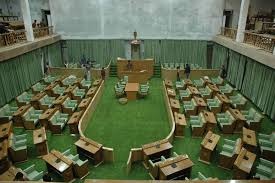 Shimla: Lok Sabha speaker Meira Kumar will address sitting and former legislators of the Himachal Pradesh assembly on the occasion of the golden jubilee celebrations of the house here on Oct 21 .
"The proceedings will be telecast live on Lok Sabha TV and DD Bharti ," the state Vidhan Sabha speaker BBL Butail said here Saturday .
"Around 160 former MLAs , 68 sitting MLAs , besides state MPs and other VIPs will attend the special session to be addressed by the Lok Sabha speaker.
"The house started with 43 MLAs . The number rose to 68 in 1968 . In the last fifty years 1125 bills have been passed by the house ," Butial said .
On May 24 this year President Pranab Mukherjee also addressed the Himachal house to mark it's golden jubilee celebrations . The assembly has three sessions in a year with 35 total sittings .
BBL Butail is the 13 th speaker of the house . The assembly is housed in a heritage building built during colonial British rule .