Himachal Diwali 2013 : Crackers boom into midnight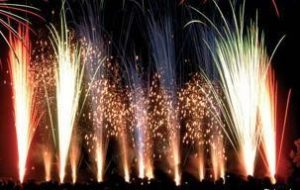 Shimla : Despite the Supreme Court ban on firecrackers between 10 pm and 6 am fire crackers were blasted all over Himachal Pradesh well past midnight this Diwali .
Sun Post has not been told of a single incident where the authorities intervened to stop blasting of crackers after 10 pm.
In fact downtown areas like the Mall road and Ridge which are out of bounds for bursting crackers saw several violations .
On Sunday night your Correspondent saw residents blasting crackers in this highly fire prone and congested old town area where most of the houses are made of timber.
There was no police patrol seen on the Mall . Beggars have been have been been roaming this street all week long bothering shoppers and tourists .
Sources told Sun Post Monday that over a dozen people reported with burn injuries at the Snowdon hospital on Diwali night , most were treated and sent home .
There were incidents of fire from several places like Kullu , Una and Chamba districts destroying property worth lakhs of rupees.
On Diwali there were also two road accidents .Five people were killed in The Kullu valley and two died in the Chamba valley .