Good Himachal apples fail to bring smiles to farmers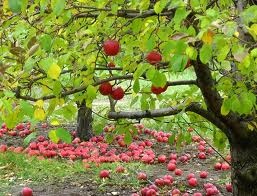 Shimla : Despite the second highest apple crop ever in Himachal Pradesh this time it has failed to make farmers happy due to poor returns and pending payments from commission agents .
The state government has released this year's output figures with the harvest ending in October.
The apple output this year is 3.2 crore boxes , with each box weighing between 22 to 30 kg . 72,000 truck loads of apple left the hill state.
Apart from boxes lower quality fruit of 34,000 tonnes was procured by government agencies under the market intervention scheme (MIS). Most of this is crushed to produce juice, jams , chutneys and wine .
The highest production was in 2010 at 4.46 crore along with 1.1 lakh tonnes of fruit procured under MIS.
The last two years saw poor apple production although the returns were far better.
Farmers told Sun Post that this time the market remained continuously low since mid July when the harvest began. It failed to rise when the high quality fruit entered the market in September and October from orchards located in the higher reaches of Shimla and tribal Kinnaur districts.
Most of the farmers were able to sell their produce at Rs 400 to Rs 1200 per box in markets across the state and major cities of northern India .
But last year the returns were more than twice this year's prices , say farmers .
Added to the poor returns many of the farmers say they have still to be paid for their produce by small commission agents who have sprung up in the last couple of years in small places like Narkanda , Theog , Rohru , Kharapather and bigger towns like Shimla and Solan .
On the other hand commission agents say they can only pay after wholesale buyers from across India pay them.
Many farmers say they have not even been paid for last year's produce so far . Some have even used commission agents .