Himachal Congress MLA Ram Kumar surrenders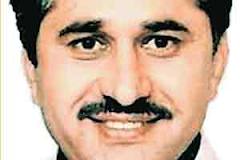 Shimla : On the run for the past month in connection with the murder of a young woman the newly elected Congress MLA Ram Kumar Chaudhary on Tuesday surrendered in neighbouring Haryana's Panchkula .
He has been sent to police custody for six days .
Police was looking for Chaudhary after a 24 year old woman was found murdered with her head smashed in Panchkula on Nov 22 last year.
During investigations her mobile phone details revealed the MLAs connection with the incident . Besides Chaudhary three others were also booked by police .
Chaudhary reportedly knew Jyoti for many years and she was staying at a PG accommodation in Panchkula and her expenses were borne by him . She was from a village in Punjab's Hoshiarpur region.
Chaudhury was elected from the Doon seat in Solan district of Himachal but had gone missing for the past few weeks .
On Monday the Haryana police had announced a reward of Rs 200,000 (Rs 2 lakh) for helping catch the elusive MLA .
A police team had been sent to Dharamsala to arrest him as all the state MLAs have gathered here for the oath ceremony in the state assembly which started here Tuesday
The MLA's anticipatory bail plea was rejected by the court on Dec 27.
Chaudhary is the son of four-time Congress MLA and leading businessman, Lajja Ram .