Himachal cabinet knocks PM's door , asks for funds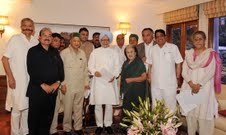 Shimla : Himachal Pradesh chief minister Virbhadra Singh and his entire team of ministers met prime minister Manmohan Singh in New Delhi Monday and urged him to provide financial assistance for the flood ravaged regions of the state.
The state is still awaiting funds after extremely heavy rains caused large-scale damage in tribal Kinnaur district along with Sirmaur district .
These regions saw up to 1358 per cent above normal rainfall during 15 to 17 June killing 69 people and 2427 livestock.
Also 11,157 houses , 4519 roads and 2763 water supply schemes were badly damaged by the  pouring rain .
A request was also made to restore the central industrial package to the state till 2020. This was introduced in 2003 for ten years but the excise package was withdrawn in 2010 .
A request was also made to release the full amount of Rs 2,100 crore special plan assistance to the state for financing the annual plan of Rs 4,100 crore to speed up development .
Virbhadra informed the prime minister that the state was suffering as the 13 th finance commission only raised funds by 50 per cent as compared to 126 per cent to other states.