Himachal BJP MLA quits party calls Dhumal corrupt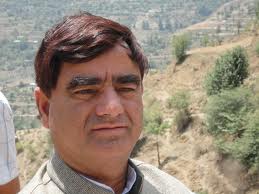 Shimla : A senior BJP leader and MLA from Rohru Khushi Ram Balnatah on Tuesday quit the party saying the Dhumal led BJP government is guilty of state sponsored corruption .
"I am leaving the party after 40 years , but will go to the public and expose all the corrupt deeds of the BJP government ," said Balnatah here .
"The Dhumal led BJP government has neglected the ordinary party worker and only a handful of party men close to him have promoted large-scale corruption in the state ," he said .
"A dangerous nexus has taken place between corporate houses , land mafia and politicians to sell the state to outsiders . Over one lakh bighas(8000 hectares) has been sold to outsiders in the last five years ," he alleged .
Balnatah said he has joined the Himachal Lokhit Party(HLP) , a party formed by BJP rebels earlier this year.
"I have asked the HLP for a ticket from the Kasumpti seat ," he said .
The state goes to the polls on Nov 4 , the main fight is between the ruling BJP and the opposition Congress .