Himachal apple farmers worry as Nepalese men fly to the Gulf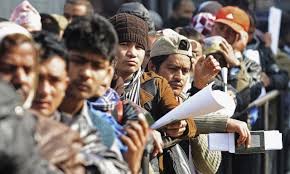 Shimla :Farmers in Himachal Pradesh's apple orchards are facing labour shortage as more and more Nepalese labour is moving to the Gulf and the Middle East in search of higher paid work.
For over half a century Nepalese in large numbers have been coming to Himachal Pradesh's scenic mountains to work as labourers on the apple orchards.
Apple is the largest cash crop of Himachal Pradesh.Booming at Rs 3500 crore as more and more land comes under apple cultivation The biggest concern in the last couple of years for farm owners is shortage of labour as Nepalese are choosing to go to Dubai and Qatar in the hope of making more money.
"After working in Himachal Pradesh's apple orchards for the last ten years I am now all set to go to the Gulf," said Vishnu Bahadur,a Nepalese man.
"Many young men in my area are preparing to leave. We are waiting for our passports and work visas," he said.
"Even though I cannot take my family along it is worth it as I hope to send back good money," said Bahadur.
The flight of labour overseas is bound to hit farm work in Himachal mid-hills which hproduces a third of India's apple.
Ever since delicious varieties of this fruit were imported from America by Christian missionary Samuel Evans Stokes and began to be grown commercially transforming the lives of the locals.
Most of the work has been traditionally done by Nepalese men who are at ease in this harsh Himalayan terrain.
The work involves carrying big loads on the steep terrain to the nearest godown or road head.
"Believe me only Nepalese can do this tough work as they come from the land of the Everest.Due to the very steep mountains scope for mechanised farming is limited here," said Rajeev Chauhan, chairman of the Himalayan apple growers' society.
Although there are no exact numbers available but thousands of Nepalese young men descend from Nepal to work in Himachal's apple farms every summer for the harvest to return home in a few months. Some choose to stay back with their families and manage the orchard work for much of the year.
"Gorkhas have now started going to the Gulf, Middle East and even Malaysia.They also prefer to work on infrastructure projects in Indian cities.So we are facing a shortage and the position will get worse in coming years," says Chauhan.
"Nepalese labour wages have doubled in the last five years as the demand continues to grow," says Ranjeet Mehta another local farmer.
Despite extreme heat and stories of poor working and living conditions in the Gulf for these hill men there is a huge rush to leave and ignore Himachal Pradesh as the attraction to make big money is irresistible for them.
With the recent visit of prime minister Narendra Modi to Kathmandu and promise to help Nepal in tapping its huge hydro electric potential to light up power deficit northern India, ties are better between the two neighbours.
Besides Himachal Pradesh Nepalese are sprinkled in other parts of India working as labourers, watchmen and other menial jobs but now better pastures beckon them overseas.