Nadda new star of Himachal politics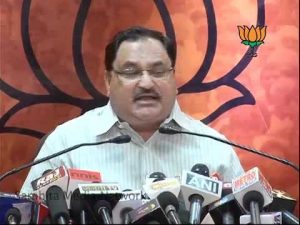 Shimla :Taking over as the union cabinet minister Sunday in the Narendra Modi led government JP Nadda has now emerged as the most powerful BJP leader in the hill state.
Quick to smile and hard to provoke J P Nadda has the enviable classic politician's personality. He has already been a cabinet minister twice in the BJP government in the state.
Frustrated and stifled under P.K. Dhumal some three years ago he resigned as minister and moved to the Rajya Sabha. And since than has only risen in stature in national politics.
Close to Modi since the mid 1990s when he was in charge of Himachal affairs Nadda was then the leader of the opposition in the Himachal assembly.
Modi and Nadda go a long way back. Seeing the two strolling on Shimla's Mall road was a common sight twenty years ago.
At 30 he was president of the youth wing of the BJP and unknowns like Amit Shah and a host of now senior leaders in the BJP reported to him.
No wonder Nadda was the front runner for the BJP party chief's post some months ago.
With his becoming a powerful cabinet minister at the Centre the power equations in the hill state have now changed.
This is not only a blow to the two time chief minister P.K.Dhumal but also his MP son Anurag Thakur.
Of late the father son duo are more in the news for allegations of controversial land purchases for the Himachal cricket association which Thakur heads.
While Nadda has a long innings in public life since he was a prominent ABVP leader, Anurag Thakur has been an MP for barely six years courtesy his doting father.