Himachal annual plan fixed at Rs 4100 crore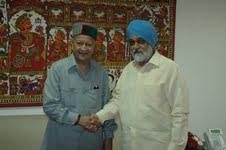 Shimla : The planning commission on Wednesday finalised Himachal Pradesh's annual plan for the current fiscal at Rs 4100 crore which is Rs 400 crore higher than last year's plan .
"Social sector , transport , communication and energy have been given priority by allocating Rs over 33 per cent , 21 per cent and over 15 per cent to these sectors respectively,"said Virbhadra Singh after meeting the planning commission deputy chairman , Montek Singh Ahluwalia .
The state's economy growth rate for the 12 th plan has been fixed at 9 per cent .
Additional 5009 MW of hydel energy will be generated in the 12 th plan out of which a target of 1918 MW hydel energy generation has been fixed for the current fiscal .
The project cost of the mid-Himalayan watershed project has now been revised to Rs 596 crore from the earlier Rs 365 crore .
A Rs 428 crore cost Asian Development Bank(ADB) assisted infrastructure development investment programme has been started to improve basic tourist facilities in the state .
The chief minister requested the union government to restore the industrial package to speed up industrialisation in the state .