God's money will not be spent on souvenirs : Himachal high court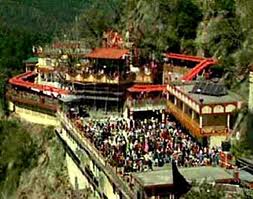 Shimla : The HimachalPradesh high court here  ordered the state government Tuesday that temple trust money cannot not be spent on advertisements in souvenirs .
The court disposed of a petition filed by Rajesh Khosla bringing to the notice of the court that an amount of Rs 100,000 of the well known Baba Balak Nath Trust fund was spent on an advertisement in the souvenir published by the Himachal tourism in connection with the Hamir Utsav in 2009 .
"Having gone through the material and as has been rightly perceived by all concerned in the court , God's money is not be spent for advertisements about the temple or its activities ," the court said .
"It is made clear that the temple trust shall not spend any money by way of advertisement in any souvenir."
"There shall be a direction to the state Himachal chief secretary and chief commissioner(temples) to issue appropriate directions to all the commissioners that God's money shall not be spent for advertisements in souvenirs," the order was passed by chief justice Kurian Joseph and justice Dharam Chand Chaudhary.