Fincare Small Finance Bank opens Shimla branch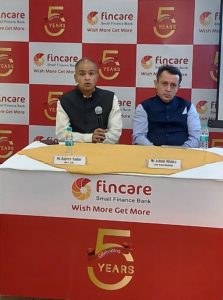 Shimla : Fincare Small Finance Bank, a digital-first small finance bank, recently opened its inaugural branch in Shimla.With this launch, the bank aims to bolster the region's development by offering convenient financial services to local businesses, entrepreneurs, and industries.
Commenting on the inauguration of the new branch, Rajeev Yadav, Managing Director, and Chief Executive Officer, said, "We are thrilled to launch our first branch in Shimla, which is an important milestone for us. With this launch, we aim to provide a range of financial services to the people of Shimla and support the economic development of the region. We believe that our efficient and reliable banking services will contribute to the financial well-being of the local population and help them achieve their financial goals."
Fincare Small Finance Bank aims to provide a range of banking services to meet their financial needs with a wide range of products, including current and savings account, fixed and recurring deposits, and credit offerings such as loan against gold, loan against property, affordable housing loan and overdraft solutions, and microloans.
The Bank also delivers products and services through Unified Payment Interface (UPI) facilities. The Bank has an extensive network of 1,231 banking outlets spread across 19 states and three union territories, covering 338 districts and 57,186 villages as of 31st March 2023, Bank officials said.