13,000 ltrs of illicit liquor seized in Himachal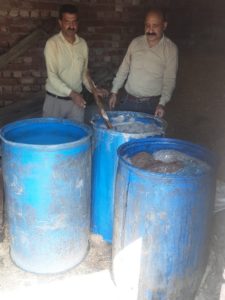 Shimla: The Himachal Pradesh excise team of Nurpur during raids at Ulehriya-Khanpur, Gangwal, Bhogra & Milwan on Thursday seized 13000 liters of Lahan (illicit liquor) .
In a similar action 30,000 liters of Lahan was seized and destroyed by the Nurpur excise team, said Commissioner Yunus today.An FIR has been registered in the police station against those accused.
Yet in an another incident in Kullu, a suspicious premises located at Banogi-Kullu-Beasar Road was inspected on the basis of a specific information wherein,  588 bottles of English and 369 bottles of beer were seized.
Yunus said similar drives were being conducted in other districts as well. Excise teams of Bilaspur, Baddi-Barotiwala-Nalagarh (BBN) Nurpur, Sirmaur and Mandi raided various places on Wednesday and Thursday and seized 170 bottles of English and country liquor. Apart from this, raids were conducted at different suspected places in the state in the last few days.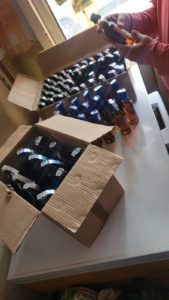 Recently in district Una, many boxes of country liquor VRV Santra was seized by the police. After investigation of the holograms affixed on the bottles it was found that they were not legit. 
To make this campaign more successful, about 30 teams have been constituted in all the districts with a direction to work promptly and take strict action against the culprits.