EC ready to take Himachal poll complaints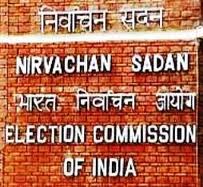 Shimla : If you have a complaint about the election process across Himachal Pradesh which goes to the polls on Nov 4 the Election Commission is ready to receive complaints from the public , a poll panel official said Thursday .
"Election expenditure monitoring , control rooms and 24 X 7 call centres have been set up in each district of the state to register complaints from the general public ," said Narinder Chauhan , the chief electoral officer .
"Any one can register complaints regarding illegal moving and distribution of cash , liquor  , arms or any other suspicious item . One can also complain about surrogate advertisements and paid news ," said Chauhan.
The toll free numbers are :
1. Bilaspur 1800-180-8021
2 Chamba 1800-180-8015
3 Hamirpur 1800-180-8018
4 Kangra 1800-180-8016
5 Kinnaur 1800-180-8023
6 Kullu 1800-180-8027
7 Lahaul & Spiti 1800-180-8028
8 Mandi 1800-180-8024
9 Shimla 1077
10 Sirmaur 1800-180-8412
11 Solan 1800-180-8566
12 Una 1800-180-8019
13 Chief Electoral Office, H.P. 1950