Courts interfering in our functioning: Virbhadra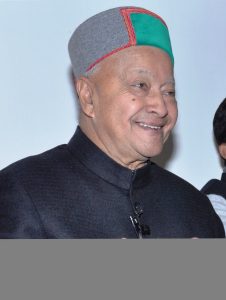 Shimla :Himachal Pradesh chief minister Virbhadra Singh said Tuesday that the judiciary was interfering in the functioning of a democratically elected government like his in the hill state .
Reacting sharply to a recent judgement of the state high court where the court said that taking the opinion of local politicians before transferring a government official was not needed as it affected the independence of the executive .
"I disagree with the judgement .After all this is a government elected by the people. It is unnecessary interference in the affairs of a democratic government , Virbhadra told reporters here .
"The judiciary cannot dismiss the role of the common people, as they(common people) are not the people of the gutter," he said .
Reacting to another recent judgement of the high court ordering pensions for state PSU staff he said ,
"This is a contentious issue and the high court is not the last word in this matter ," he added .
According to one estimate if the state government decides to grant pensions to all its PSU staff it could add Rs 500 crore to its bill per year pushing the state exchequer into further debt .
Asked about the delay in the calamity fund of Rs 2100 crore from the Centre he said the amount has been allotted but was delayed as a lesser amount was allotted which the state government rejected .
Asked about his response to the Opposition BJP's plan of handing over a charge sheet against his government to the Governor on the completion of one year in office on Christmas he said.
"The BJP is feeling the heat and now they are resorting to these tactics . It is my duty to look into all charges against the previous BJP regime. I can assure you that no charges will be fabricated ," he said .
Asked about the inquiry into the alleged irregularities in land purchase in the tea gardens of Kangra by activist Prashant Bhushan he said the inquiry will go on.
"I don't want to pre-judge the matter. He is a citizen of India and not above the law,' he added .