Change Himachal BJP leadership at once demands MLA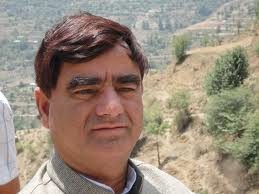 Shimla : A senior Himachal BJP leader and MLA on Wednesday shot off a letter to the BJP chief Nitin Gadkari asking for chief minister P.K. Dhumal to be replaced ahead of the assembly polls later this year .
"The BJP's rank and file is feeling suffocated under P.K.Dhumal's leadership as he is promoting nepotism , regionalism and corruption ," Khushi Ram Balnatah MLA from Rohru wrote in his letter to Gadkari .
"If the party is to perform well and repeat another term in the state the leadership must be changed immediately as only four months remain for the next assembly elections ," he said .
"The electoral losses in last month's Shimla civic polls is a clear indication that all is not well and there is a change in public mood ," he said .
"Shimla is not only the capital it covers voters from three assembly seats . The CPIM won the prestigious seats of mayor and deputy mayor by handsome margins is a clear warning sign of what is to come ," he warned .
"Discontent against corruption by the Dhumal government has been brewing in the BJP for a long time and this connection ex- senior BJP leaders like Maheshwar Singh , Radha Raman Shastri and Shayama Sharma among others met you(Gadkari) last year but you took no action," he said.
"Eventually stalwarts like Maheshwar Singh quit the party to form the Himachal Lokhit Party (HLP) which was a big loss to the BJP and will affect the party's performance in the forthcoming polls ," Balnatah said .