Centre queries on Himachal monkeys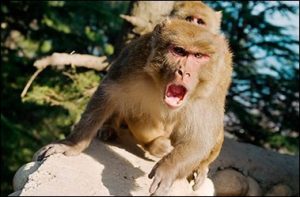 Shimla: With the date of monkeys being declared vermin having expired recently the Central government has asked the Himachal government to send the latest status report of monkeys in the state.
The state government has requested the ministry of environment and forests to declare monkeys vermin for some more time as in the previous year not a single monkey was killed.
The Centre has infact given permission twice in 2015 and 2016 but the state government failed to kill even a single monkey in over two years.
Starting with state capital Shimla and many areas in the hill state have large number of monkeys who destroy crops and attack people.
Residents accuse the lethargic state government of lying that it has staralised many monkeys. But all monkeys troupes can be seen with newly born and adolescent animals.