Big traffic jam in Shimla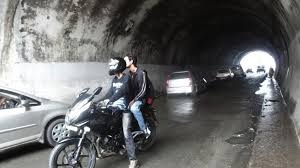 Weekend tourists and locals faced a snarling traffic jam Saturday in downtown Shimla,traffic police is being blamed for its absence .
The problem began in the afternoon when several military trucks clogged the traffic between Sanjauli and Victory tunnel .
The traffic jam lasted a couple of hours frustrating many people particularly weekend tourists .
Locals were seen stepping out of buses and walking to their destinations .
Many blamed the absence of traffic police at several key points which caused a lot of confusion.
The narrow Sanjauli-Victory tunnel route is often plagued by traffic jams .
On Friday a big traffic jam affected Vikasnagar , Khalini , Brockhurst and Chotta Shimla region for over an hour just after office hours in the evening.It isn't clear what caused this jam.