Big fire in Kullu's Kotla village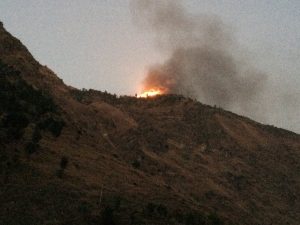 Shimla : Over 50 houses have been burnt down in a fire in Kotla village in the Kullu valley's Banjar area Sunday.
The fire started in the evening and spread fast in the wooden houses.There are about 90 houses in the entire village. No loss of life has been reported.
Kullu D C Rakesh Kanwar said the fire tenders had been rushed to the village but were not able to reach the village as there was no road touching the village.
The nearest road is about one km away. Villagers fear the entire village might be burnt down as the fire was big and hard to put out.
November is the driest month and once fires are started they spread fast.