Awaara : Raj Kapoor , Nargis passion sizzles on screen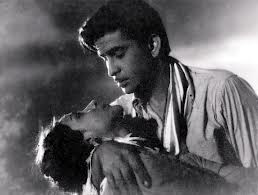 Hindi cinema's show man Raj Kapoor was only in his mid twenties when he directed , produced and acted in Awaara released in 1951 .
This black & white classic will also be remembered for the passion and sensuality between Raj Kapoor and Nargis . So bold and spontaneous all those years ago and continues to be discussed even now .
Who can forget the remarkable dream sequence song (three songs clubbed together) . The powerful imagery created with the help of very elaborate sets by the show man .
The film was recongnised as an instant classic . It is easy to understand why it appealed to an international audience. Across South Asia , in China where chairman Mao was a big fan of the film .
In Soviet Russia , eastern Europe ,the Middle East , Africa among other places . No wonder it made it to Time magazine's best all time 100 movies list updated this year.
Raj's real-life father Pritviraj Kapoor plays his father on screen here . Raj as a boy is played by his kid brother Shashi Kapoor . Raj's grandfather(Pritviraj's father Dewan Kapoor) plays a short role in this his only film .
Story is K A Abbas , music by Shankar Jaikishan , lyrics by Hasrat Jaipuri and Shailendra .
There are eleven songs . Ab Raat Guzarane Waali Hai , Jab Se Balam Ghar Aaye , Ek Bewafa se Pyar Kiya , Ghar Aaya Mera Pardesi (all by Lata) .
Ek Do Teen (Shamshad Begum) , Hanste Bhi Rahe Rote Bhi Rahe , Awara Hoon , Hum Tujse Mohabbat Kar Ke (all Mukesh) .
Dum Bhar Jo Udhar Munh Phere (Mukesh & Lata ). Tere Bina Aag Yeh Chandni (Manna Dey & Lata) , Naiya Meri Manjhdhar (Mohammad Rafi ) ,