Andaz : Dilip , Nargis , Raj style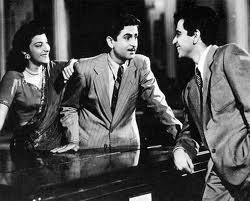 Here we have Dilip Kumar and Raj Kapoor —– the only time together on screen . Both play their roles with elan and style(andaz) in this 1949 release  , this triangular tragic love story was a big hit .
Then there is a young , bubbly and willowy Nargis in this her first film as a leading lady .
Andaz is shot in palatial houses with birthday parties , with plenty of songs on the piano .
Then there is Shimla the queen of the hills just left empty by the British . In this mysterious place Nargis rides horses in deodar woods and a prince charming rescues her from falling down a cliff and the love story begins .
Nargis and Raj Kapoor playing golf at Naldehra and travelling by the steam engine toy train and hiding for years in the hills from her silent lover (Dilip Kumar) .
Directed by Mehboob Khan , music is by Naushad .
Mukesh sings in K L Saigal style . Jhoom Jhoom ke Nacho Aaj , Hum Aaj Kahin Dil Kho Baithe , Tu Kahe Agar , Toote Na Dil Toote Na .
Koi Mere Dil Main , Meri Ladli , Uthaye Ja Unke Sitam , Tod Diya Dil Mera (Lata) .
Yun To Aapas Mein Bigadte Hain (Lata & Rafi), Dar Na Mohabbat Karle (Lata & Shamshad Begum) .