Anurag Thakur , brother booked for forgery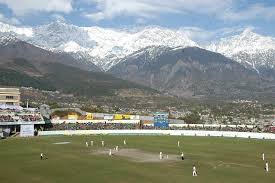 Shimla : The anti-corruption and vigilance wings of the Himachal Pradesh government on Thursday have filed two FIRs against Hamirpur BJP MP and the state cricket board chief Anurag Thakur .
Anurag's younger brother Arun Thakur has also been booked for allegedly forging documents to buy land in Dharamsala .
Another FIR was also lodged against the Himachal Pradesh Cricket Association (HPCA) for allegedly encroaching the state sports department's building area near the cricket stadium in Dharamsala .
Anurag and Arun are the sons of former state chief minister and current leader of the opposition in the state assembly P K Dhumal.
The booking of cases against Anurag Thakur among others was confirmed by the Kangra police chief Bimal Gupta .
According to law the land was allotted and hence could not be sold or bought for 20 years .
There is also an allegation that 720 square feet of land of the state sports department was encroached by the HPCA .
Anurag Thakur is the also president of the BJP's youth wing the BYJM .A few days ago he was re-elected as joint secretary of the BCCI .