Ankur : Shyam Benegal's early masterpiece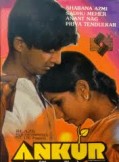 This is a remarkable first film by the highly gifted Shyam Benegal and at once brought him international acclaim as a world class director in 1973 .
Based on a true story about rural caste-ridden India and the exploitation of low caste women .
Ankur will always be remembered for an excellent performance by a very young and fresh Shabana Azmi as Lakshmi the exploited potter caste woman .
Azmi's first film for which she bagged the national award and established herself as one of India's greatest actors of the modern era .
An equally excellent performance by Anant Nag who plays  Surya the exploiting landlord to perfection .
Then there is the dark horse Sadhu Meher as Kishtayya the mute potter . Even though he doesn't speak a word this is his lifetime performance .
The whipping scene in the end is to me one of the great scenes of Indian cinema , indeed of world cinema and involves all these three great actors .