Heavy rains crack Shimla' Ridge
Shimla : Shimla's famous Ridge has developed cracks Tuesday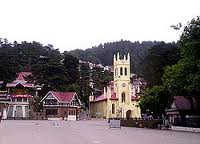 due to heavy rains over the past week or so .
The crack is around 42 metres long and is only a few metres away from the historic Gaiety theatre and Municipal Corporation office , both are housed in Raj-era heritage buildings .
The Ridge ground is located in the heart of this Himachal Pradesh state capital and is a popular tourist destination .
Even as civic officials and the state government have been debating for years on handing over the restoration work to a construction agency .
Last monsoon the Ridge developed big crakcs which took months to restore .
In 2008  heavy rains triggered a major slide at the edge of the Ridge wiping away 20 make-shift Tibetan refugee shops downhill and killing two .