Andaz : Rajesh Khanna rides into your heart : Review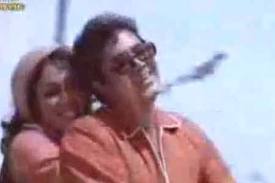 This was the golden age of Rajesh Khanna , whatever the superstar touched it turned into gold

 In this GP Sippy film (Andaz) 1971 , Khanna appears on screen for only a few minutes with the famous Kishore Kumar yodel "Zindagi Ek Safar Hai Suhana" and a couple of other scenes .
 And in his inimitable style rides a motorbike with a very young , slim and shy Hema Malini .
 But the actual story of Andaz revolves around Shammi Kapoor and Hema . Both meet after a painful past .
 This was Shammi's last film as a lead man . Having just turned forty Shammi was already putting on a lot of weight and looking much older.
 But despite this Shammi portrays a serious Ravi with his usual style. And like many of his earlier films this is also shot in his favourite Kashmir valley .
 Andaz is also remembered as the last film of the great Shankar-Jaikishan duo . Soon after Jaikishan died of liver cirrhosis , he was only 42 .
 "Zindagi Ek Safar Hai Suhana" by Kishore Kumar is the last great song of the two .
 Other numbers are "Dil Use Do Jo Jaan De De"  "Hai Na Bolo Bolo"(Rafi and Suman Kalyanpur).
 "Dil Use Do Jo Jaan De De" (Rafi and Asha) , Re Mama Re(Rafi) . "Mujhe Pyas Aesi Pyas Lagi Hai"(Asha).
 The script is by Salim Javed . The film did quite well at the box office .