All Himachal villages are open defecation free claims govt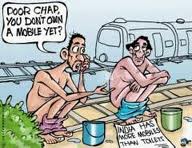 Shimla : Even as 70 per cent of rural Indian homes do not have toilets , Himachal Pradesh is an exception and already claims to be open defecation free (ODF) .
Top officials of the state's rural development and panchayati raj department say all rural homes now have a toilet .
When Sun Post spoke to a cross section of people including , NGOs , village councils and others this huge change has come about in the last couple of decades due to a high literacy rate and awareness levels .
Top officials of the state's rural development department say the department's subsidies have helped to a large extent coupled with NGOs and other grassroots bodies who have sensitised the villagers besides helping set up toilets.
They say with the central government proposing to raise the subsidy from Rs 3000 to Rs 9900 under rural sanitation in the 12 th plan is meaningless in an ODF state like Himachal.
In fact they complain that the central rural sanitation agencies are reluctant to declare villages in the hill state as 'nirmal gram panchayats' as they will have to dish out Rs 500,000 as prize money  to each panchayat .
"Even though these agencies find that all homes have some kind of a toilet they point out that some rural schools or market places near villages may not have enough toilets," said one official .
State government officials acknowledge that this is a worry at a few places particularly where migrant labour moves in villages and townships despite contractors being asked to provide toilets labour .
"Out of 3243 panchayats in the state 1011 are already nirmal gram panchayats(NGP) ," said Robin George , a senior official of the state's rural development department.
"Since we believe the remaining villages are nirmal(clean) we have asked them to apply for this status so that the state and central agencies can visit each of them and verify their claims ," said George .
"On Sunday (13 May) all panchayats met across Himachal and only one issue was discussed that all villages in the state should be declared 'nirmal' within the next two months," said Chaman Dilta , additional director , state rural development department .
But there are also concerns raised by NGOs who say the state government needs to provide more toilets in village schools and anganwaris where there should be at least one toilet for 40 children
Others say small townships need to address hygiene levels by having more public toilets and penalise contractors and builders who employ migratory labour from other states but do not provide them toilets among other facilities .