90 per cent of Bhag Milkha Bhag is true : Milkha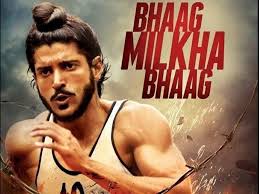 Legendary athlete Milkha Singh says he is very happy with the making of the film Bhag Milkha Bhag . And almost the  entire film is indeed based on his life .
 "90 per cent of the story matches my life ," Milkha Singh told the Day & Night news channel's Kanwar Sandhu in an interview .
 "My life has been hard and I have had to literally walk on fire. The older generation knows this but the younger generation will now know about me from this film ," he said .
 He says his son Jeev Milkha Singh is a hindi movie buff was instrumental in giving his nod to Bhag Milkha director and producer Rakeysh Omprakash Mehra.
 "There have been many offers to make a film on my life But when Rakeysh approached me my son Jeev said he is the ideal person to make a film on his life as he had watched his earlier film 'Rang De Basanti' which he liked very much ," he said .
 "Even though they came up with an offer of Rs 1.5 crore as royalty , my son and daughter said I should only charge Rs 1. I have already received  the Rs 1 fee in the form of a currency note made in 1958 ,"Milka added .
 Asked what were the most traumatic incidents of his life, he said the killing of his parents by tribal muslims during partition . And his failure at the Rome 1960 Olympics . Both these incidents will haunt him for the rest of his life .
 "I thoroughly enjoyed the movie. The first half made me often laugh but the second half made me cry and Farhan Akhatar handed me a handkerchief saying 'yeh lo uncle'.
 "As portrayed in the film it was true that among 500 or so jawans who ran a race those who finished in the first ten were offered daily milk and eggs,"he recalled .
 "Yes the scenes about my hard work , pouring sweat into a bucket , running in the sand and in the high altitude of Ladakh , my mouth bleeding due to over exertion are all true," the flying sikh added .
 "The title of the Flying Sikh was really given to me by Gen Ayub Khan who congratulated me in Punjabi after I won the race,"he said .
 "It is also true I did not want to go to Pakistan due to the partition trauma which troubled me but Pandit Nehru ji motivated me to go and lead the contingent . The welcome in Pakistan was amazing."
 Milkha said in real life he was much older at the time of partition , the film he is shown younger . He said like Giani Zail Singh the jokes about him were perfectly okay since he was a famous person .
 "Once while travelling without a ticket I was fined Rs 5 and was sent to Tihar jail . My elder sister actually bailed me out by selling her ear rings."
 "My sister was like a mother to me and was often beaten for my sake . It true that I bought her the ear rings she had once sold to bail me out of jail,"Milka says .
 Asked about the intimate scenes in the film he said the intimacy was true only to an extent .
 "In those days merely talking to a girl was taking to Rub(God)," Milka added .