8 Chinese nationals held in Himachal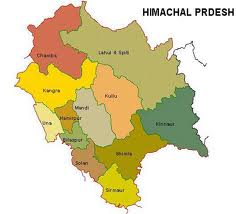 Shimla : Police in the northern Indian state of Himachal Pradesh have arrested eight ethnic Chinese men with Chinese passports .
They were arrested from a house-cum monastery in Chauntra at the edge of the scenic Kangra valley some 250 km from here late Tuesday .
"All the eight men have Chinese passports . They have short tourist visas . We have arrested them under section 14 as they had not registered with the local police ," said Abhishek Duler , Mandi district police chief ( a senior police officer).
"They are being questioned and are currently in police custody in Jogindernagar ," Dular told the Sun Post by phone Wednesday .
"They are of different age groups in their 20s, 30s and 40s ," said Dular .
"Under section 7 even if you have a tourist visa you need to inform the police . And when you move to a new location you need to inform the police as well ," Dular clarified .
"We have also booked the caretaker of the house in which these men were staying ," he added .
Police have also seized from them Rs 3 million in Indian currency , $ 3000 and some other foreign currencies . Mobile phones , some with Chinese SIM cards have also been found .
Police is tight lipped at this stage about whether they are Chinese spies .
Police in Himachal Pradesh is taking this incident seriously  for the past few weeks after threats to the life of the Dalai Lama who lives in Dharmasala close to where the men have been arrested.
Mountainous Himachal Pradesh borders Tibet .
Reacting to the arrests  state chief minister P.K.Dhumal said ,"The arrested Chinese nationals have apparantly entered India by the Taiwan route . We are trying to engage Chinese interpretors to further question the Chinese men" .
"I have been cautioning the Central government repeatedly about Chinese activities along the Himachal Pradesh border . Of late there have been air space violations by China which I have reported to New Delhi," said Dhumal .
"In view of recent threats to the life of the Dalai Lama the Centre should constitute a special cell to keep an eye on the activities of Chinese nations slipping into India in disguise as Tibetans ," he said .