Fires reignite in Himachal jungles, forest babus snooze !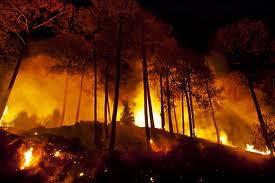 Shimla : The air is smoky and foul in Shimla and other parts of Himachal Pradesh for the past few days due to raging forest fires which have been allowed to spread and cause huge damage to forest wealth .
This despite summer rains until recently all over the state the fires are surprisingly back in the surrounding forests of Shimla and other parts of the hill state .
Environmentalists talking to Sun Post have mocked the state's forest department for failing to take any measures to stop these fires .
They have expressed surprise that despite daily rain for over a week , how have the fires returned and why has the forest department failed to put out these fires.
These green activists wonder if the fires are allowed to spread in the vicinity of Shimla for days together , how will they put out the fires spreading in other parts of the state .
Having experienced the driest May in 22 years fires raged in the forests of Shimla , Solan, Sirmaur , Bilaspur , Mandi , Kangra and Una districts until the rains earlier this month helped douse them
But environmentalists are perplexed how these fires have returned once again so soon .
Often these fires are started by greedy farmers who want to encroach on government land .
With state assembly elections scheduled late this year farmers feel the government will do little to stop them from encroaching on government forest land .
But like always the over-staffed and over-paid forest department staffers are apparently sleeping and letting precious forests being burnt down .
All the top officers of the forest department sit calmly in their posh offices and look out of their offices idly even as fires rage all around Shimla .
Even the voluntary organisations and green groups haven't made enough noise this summer and allowed the fires to spread and not ridiculed the impotent forest department .