6 missing in Rohtang pass blizzard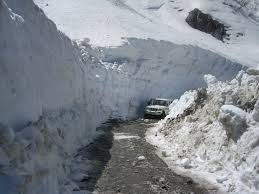 Shimla : Six people were missing when they were caught in a snow blizzard while crossing a Himalayan pass in Himachal Pradesh , officials said Monday .
Six people were attempting to cross the 13,050 ft high Rohtang Pass which connects the scenic Kullu valley to the tribal high mountain region of Lahaul & Spiti  bordering Tibet .
Sources at the Himalayan Mountaineering Institute near Manali told Sun Post they received a wireless message to look for the six men who crossed a check post at Koksar in the Lahaul valley a couple of days ago .
After a search over the pass Monday no one was found.Even though chances were bleak the search would carry on.
The entire area in an around the pass has no habitation due to extreme weather.This along with deep snow and arctic like cold makes it very difficult to survive .
All the six missing men including two teenagers have been identified as they reported at the Koksar check post over the weekend before walking up the pass when the weather suddenly changed for the worse.
The Rohtang pass is notorious for killing people .Over the weekend it received over five feet snow .
Posts leading up to the pass discourages people from crossing the pass after 15 November particularly when the weather is rough .