Pre-Xmas snowfall cheers Himachal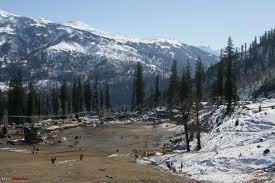 Shimla :The season's first snowfall in Himachal Pradesh on Sunday is expected to bring in record tourists for Christmas and New Year celebrations .
A white blanket has covered all popular tourist destinations in the state including , Shimla , Manali , Kufri , Chail , Narkanda , among other places .
Travel agents and hotel owners say they are now expecting a tourist deluge from Christmas to new year in all major hill stations of the state .
For many years snow has been eluding Shimla and Manali in December , but the snow this time is expected to give a major boost to winter tourism in the hill state , say many .
Icy winds lashed Shimla which had a high of only 3 degrees Celsius , several notches below normal . Manali was also freezing with a a maximum temperature of only 1 C .
Road and rail traffic was plying normally on the busy Kalka-Shimla routes .But the road has been blocked on the Hindustan Tibet road beyond Shimla leading to Kufri , Fagu , Narkanda and tribal Kinnaur .
Officials of the Himalayan mountaineering institute in Manali said the 13,050 ft high Rohtang pass connecting the Kullu valley to the high mountain tribal region of Lahaul & Spiti region has had four feet of snow since Friday .
Traffic to Manali was affected as it has already snowed over a foot here . But efforts were being made to clear the snow .
The snowfall has also cheered farmers as the wet spell has broken the long dry season in the hill state .