401 Himachal roads wait green nod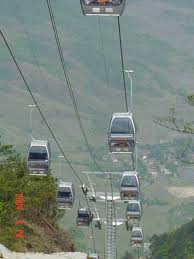 Shimla : At least 401 roads in Himachal Pradesh are awaiting forest clearance from the government , these roads also include forest violations and review petitions in courts .
"Out of these 176 roads are of PMGSY , 113 of NABARD and 112 state roads ," chief minister Virbhadra Singh told the state assembly here Tuesday .
He said the forest clearances are pending at various levels and are monitored on a monthly basis by the state's principal secretary forests .
Replying to another question the chief minister told the house that in the current fiscal around Rs 14 crore has been allotted in the railway budget for three railways lines in the state .
"Rs 10 crore for Nangal-Talwara rail line , Rs 4 crore for Bhanupali-Bilaspur Beri rail line and Rs 1 lakh for the Chandigarh-Baddi rail line ,"he said .
Replying to a supplementary Virbhadra said he was not happy with the super slow progress of railway expansion in the state in the last many years despite efforts by the state government .
In a written reply to another question Virbhadra said to the state government proposed setting up eight ropeways to promote tourism in the state .
"Ropeways are proposed at Bhuntar-Bijli Mahadev , Palchan-Rohtang(Kullu) , Neugal-Palampur ,Khanihara-Treund ,Jiya-Chamunda (Kangra) . Shivalik hotel-Jakhu (Shimla). Shahtalai-Deotsidh , Naina Devi (Bilaspur)."