2012 Raid de Himalaya winner is Suresh Rana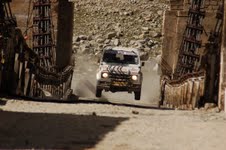 Shimla : Driving a grand vitara veteran cross-country rallyist Suresh Rana late Friday won the 14 th Raid De Himalaya for a record eight time .
This  is considered one of the toughest rallies in the world .
Of the 50 drivers only 16 vehicles managed to reach the finishing line at Leh. The rally route passes through the high mountains of Himachal Pradesh and Jammu & Kashmir .
Amanpreet Ahluwalia driving his maruti gypsy came second , while Shakti Bajaj came third , he represents the army .
The race began in Shimla on Oct 7 . After going through high mountain passes of Jalaori , Baralacha La , Rohtang , Kunzam la and Yar La the marathon motorsport ended in Leh .
"Raid 2012 turned out to be one of the toughest rallies this year as the weather was very extreme ," said Vijay Parmar president of the Himalayan Motorsport Association (HMA) which organises the event every year .
"Due to snow blizzards at Wari La , one of the world's highest mountain passes , the last leg of the Raid scheduled for Oct 12 was cancelled ," said Parmar .
The Raid is regarded as one of the top ten toughest rallies in the world , claim organisers .
Organisers say most of the vehicles had to drop out due to mechanical failures .
In the adventure category K Prasad came first . In the motorcyle category C S Santosh driving a Honda CRF came first , and Austrian Helmut Frauwallner came second .