15 th Raid-de-Himalaya takes off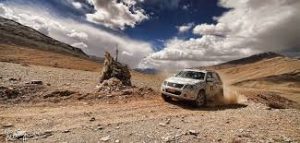 Shimla :A For six days a record 250 participants  will cover 1800 km in the 15 th Raid-de-Himalaya , India's most challenging motor sport rally which was flagged off on the outskirts of Shimla Saturday .
This time an all new scooters category and a large female contingent are taking part , organisers said .
After the ceremonial flag off today, the rallyists will set off for the first competitive leg to the popular resort town Manali.
This year the rally will run again in two different routes for the X-treme and Adventure Trial categories. Enroute, participants and their machines will brave challenges thrown by some of the highest mountain passes in the world.
The rally will culminate in Leh 
on Oct 12
 with prize distribution to the winners .
The X-treme category rally will head towards Manali via Dalog, Chamola, Luhri, Behna, Chimni, Khanag.
The second leg will start from Manali and move towards Kaza via Gramphoo and Losar.
The third leg is a Kaza to Kaza Monastery necklace loop. The Raid will start from Kaza and speed towards Demul Jn, Lingti and reach Shichling, from Shichling. The route will then head back to Kaza.
The fourth leg will see the motorists move to Pang after crossing Gramphoo, Patseo and Sarchu.
Next day the fifth leg starts from Pang and  heads towards Leh crossing Debring and Daat.
The final leg is a Leh to Leh loop. The drivers will start from Leh and travel towards Wari La, Khalsar from where the drivers will move back to Leh after crossing Khardung La pass, the highest motorable pass in the world. Like always there is also the adventure trial category as well.
Maruti Suzuki Raid-de-Himalaya is organised in association with country's leading motorsport organiser, Himalayan Motorsport.
According to Mr. Vijay Parmar, President of Himalayan Motorsport, Maruti Suzuki Raid-de-Himalaya 2013 promises to be both hugely difficult and dogged by uncertain weather.
As early onset of winters is predicted in the western Himalayan region, participants are likely to face face snow and icy winds, mercury falling to 15 degree celsius below zero at some places.
There are five competitive categories at the 15th edition of Maruti Suzuki Raid-De-Himalaya.
In the Raid X-treme an all-out speed category, 39 teams from all over the country  are competing for the top spot. Each team has a driver and a navigator.
For the first time, an all-women team of the Army is competing in The Maruti Suzuki Raid-de-Himalaya. Also  for the first time an Indian woman biker is competing in the tough Raid X-treme category.
The Maruti Suzuki Raid-de-Himalaya will take on two of the highest mountain passes in the world this year – the Khardung La and the Wari