5 per cent off for booking tickets on Himachal roadways website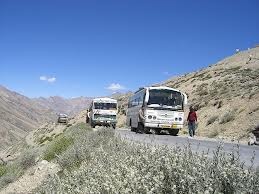 Shimla : To encourage passengers booking tickets online using payment gateway services through Himachal Roadways Transport Corporation (HRTC) website customers will now be eligible for a discount of 5 per cent .
This will come into effect from 
Oct 8
 , HRTC managing director RN Batta said here Saturday after the HRTC's board of directors meeting.
The decision has been taken to facilitate passengers booking their tickets online on website 
www.hrtc.gov.in
Service charges have also been reduced from 2.5 per cent to 1.5 per cent , besides allowing booking of HRTC buses through travel agents on commission basis.
"Travel agents will also be paid commission up to 5 per cent for providing booking services to customers ," the MD said.
On Saturday the state cabinet decided to reduce the minimum bas fare from Rs 5 to Rs 3 for a distance of 3 km .
The government was forced to reduce the minimum fare due to protests for a 30 per cent hike in HRTC fares from October 1. The hike also included raising of the minimum bus ticket from Rs 2 to Rs 5.