When Bombai Ka Babu came to Himachal !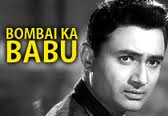 This film really gets interesting only after the Bombai Ka Babu(Dev Anand )leaves Bombay and heads up north , into the hills of Himachal Pradesh by train and finally gets off at the toy train's last point Jogindernagar in the Kangra valley .
He flees Bombay as he has killed his crime partner in self defence and the police is chasing him every where .
The film really gets interesting when Babu moves into the dark ruins of Kangra(maybe it is the Kangra fort who knows) here he is spotted by the sharp-eyed Bhagat(Rashid Khan) .
Remember Khan figured in most of Dev's early movies and this role is easily his most impressive .
In the scene when his searching eyes spot Babu in that dark ruin , he evokes a Franz Kafka like atmosphere .
Bhagat asks Babu to pose as the sole heir of a rich elderly couple who many years ago lost their son as a five year old in a pahari fair .
From now on Babu's life gets even more complicated as he falls for their daughter the beautiful Maya(Suchitra Sen) who is supposed to be his sister (but isn't his sister really as he is only posing as her brother).
A bold theme handled well in 1960 by director Raj Khosla.
An intriguing scene when Babu looks in a lustful way at Maya when they are out alone in the countryside and Maya notices this and is naturally utterly puzzled by this gaze .
The film continues to get even more tense as events unfold and climaxes with one of Mukesh's greatest songs , 'Chal ri Sajni ab Kya Soche' .
Who can forget these songs 'Saathi na Koi Manzil', Dekhne Mein Bhola Hai' and 'Diwana Mastana Hua Dil'.
Music is by S D Burman and lyrics by Majrooh Sultanpuri . The story is written by Rajinder Singh Bedi .