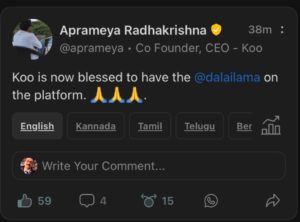 Shimla: The Tibetan spiritual leader the Dalai Lama today joined Koo. The Founder and CEO Aprameya Radhakrishna announced by Kooing a short while ago.
The Koo CEO said "Koo is blessed to have the @dalailama on Koo." The globally known Buddhist Tibetan spiritual leader has joined Koo at a time when the India microblogging site is all set to launch its services across the world including the United States. The Dharamsala based Dalai Lama has 19.2million followers on twitter and tweets regularly.
Besides English Koo is offering multi lingual services in ten Indian languages including English. It has recently launched in Brazil where it had a record one million downloads in 24 hours.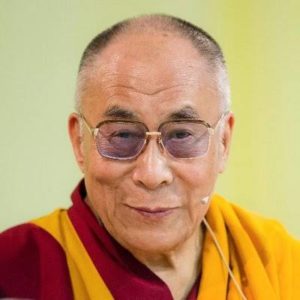 Koo started services in Nigeria last year. Last month the total downloads crossed 50 million making it the second biggest microblogging platform in the world after Twitter. In India Koo has already surpassed Twitter to become the biggest microblogging site.
There are reports of the Bangalore based company on the look out for hiring recently sacked Twitter staffers in India.