Sukhu takes salute on Himachal statehood day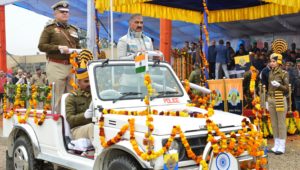 Shimla: Himachal Pradesh Chief Minister Sukhvinder Singh Sukhu conveyed his greetings to the people of the state on the 53rd statehood day celebration held at Hamirpur, today.  
He unfurled the National Flag and took salute from the contingents of Police, Home guards, Jawans of IRB Skoh, NCC cadets, Scouts and Guides led by DSP Ankit Sharma during an impressive march past.
Sukhu said the economic health of the state was in utter disarray because of the extravagant spending by the previous government that has led to legacy debt of around 75000 crore.
Apart from this, the liability of paying the arrears of Rs. 4,430 crore to the employees, Rs. 5,226 crore of pensioners and Rs. 1,000 crore DA of both  is on the present government.
Further accusing the previous government he said 900 institutions were opened by BJP  in the last 9 months of its tenure, without any budgetary provision, due to which the state has to bear an additional burden of Rs. 5,000 crore.  
Rs. 8,000 crore of NPS is held up with the Central Government. Despite all these challenges, he claimed his givernment has fulfilled its commitment to restore the old pension scheme, thereby benefitting 1.36 lakh employees,
He said, restoring the OPS was not a political decision, but the State Government intends to protect the self-esteem of the Government employees besides providing them the social security as they play a pivotal role in the development of state.
The Government was forced to take some tough decisions for generating the resources to fulfill its promises, but tough decisions are inevitable, he said.
The Government has set up Chief Minister's Sukh-Ashray Sahayata Kosh with an outlay of Rs. 101 crore for providing higher education to beneficiaries of the Kosh for Vocational training in engineering colleges, IIIT, NIT, IIM, IIT, polytechnic institutes, nursing and degree colleges'.
The Government has decided to open Rajiv Gandhi Model Day-Boarding Schools in each assembly constituency in a phased manner for providing education to the poor children.