Sukam power inks energy storage park pact with Himachal govt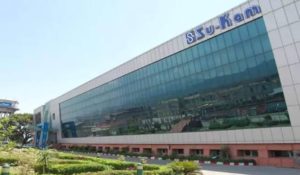 Shimla : Su-Kam Power Systems Ltd has signed a memorandum of understanding (MoU) with the Himachal Pradesh Government to set up a Sustainable Energy Storage Park in the state.
The project aligns with the government's vision of zero carbon emissions and promoting green and renewable energy.
Su-Kam plans to produce e-mobility and solar energy products on the approximately 50-acre site at this Sustainable Energy Storage Park. As per the MoU, the company will be allotted land, along with external developments and other required infrastructure facilities. It will receive connectivity to the highway and other incentives as per the government norms.
Sanchit Sekhwal Goyal, Director, Su-Kam Power Systems, said, "We plan to invest around Rs 300 crore in the coming years and expand in green energy such as renewable, e-mobility, and other sustainable energy product segments. We will be producing EV batteries & chargers for both two and four-wheelers, solar panels, and expanding our solar range."
Su-Kam aims to provide employment to more than 1000 people and support the government's mission of zero carbon emissions in Himachal Pradesh. With a vast network of over 10,000 dealers in India and a presence in more than 70 countries worldwide, Su-Kam has a strong global presence.
Goyal further added, " Su-Kam's products range includes solar power generation system comprising of inverters, battery inverters and batteries. The Energy Storage Systems Division of Su-Kam is committed to developing futuristic products, moving towards the next generation of energy storage systems. We are very soon going to launch Lithium-ion batteries also."
Goyal also shared his views on the government's efforts to promote green and renewable energy in the state, stating, "The government is playing a significant role in promoting green energy and encouraging individuals to contribute towards achieving zero carbon emissions. Additionally, the government is supporting manufacturers with industry-friendly policies."
The Himachal Pradesh government has already replaced its entire fleet of government vehicles with EVs, becoming the first state in India to do so. Su-Kam is working on its R&D side to launch lithium-ion batteries and is also considering entering the two-wheeler & commercial EV market in the coming years.