President Murmu at the opening of Tulip Garden at Shimla's Retreat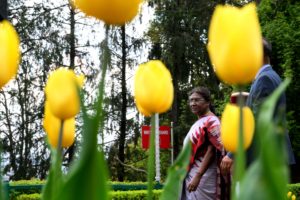 Shimla: The President of India, Droupadi Murmu graces the opening of the Tulip Garden at Rashtrapati Bhawan, the official residence of the President at Chhrabra near Shimla today.
The Rashtrapati Niwas, earlier known as the 'Presidential Retreat' at Mashobra, will be thrown open to visitors from 23rd of April this month and subsequently visitors and the tourists will be able to visit and have a glimpse of the Tulip varieties as Strong Gold, Denmark, Velemark, Jumbopink and Laptop.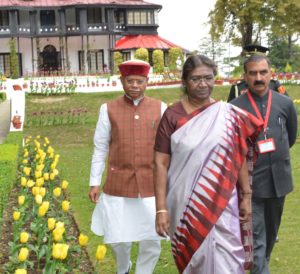 President Murmu strolled around the Rashtrapati Bhawan premises and inquired about other varieties of plants.
Governor Shiv Pratap Shukla and Chief Minister Thakur Sukhvinder Singh Sukhu also had a stroll of the Tulip Garden along-with the President after its inauguration.
The nature trails and the orchards at Rashtrapati Niwas will also be open for visitors and adventure enthusiasts from 23rd April. One can book online to visit the Shimla Rashtrapati Niwas through the official website of the Rashtrapati Bhavan https://visit.rashtrapatibhavan.gov.in