Stray dogs overrun Shimla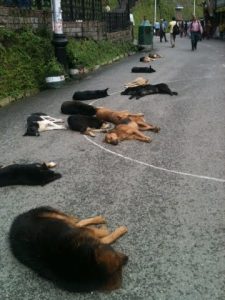 Shimla : The civic authorites in this Himachal Pradesh capital have completely failed to check the menace of stray dogs .
Streets like the Mall, the Ridge and other popular tourist places in downtown Shimla are swarming with packs of stray dogs for the past few months .
These dogs are not only a nuisance for walkers they are a threat at night with cases of barking dogs charging at passers by in the night .
Most of these dogs have been released from dog houses recently after animal rights activists moved the high court saying the condition of the dog houses in and around Shimla was very poor .
Civic authorities say it will take long to build proper dog houses but until then the dogs will have to remain on the streets .
Many told Sun Post that they have never seen so many stray dogs in Shimla .
According to a dog count in 2007 there were 67,000 dogs in the entire state . Out of these 8000 alone are in and around Shimla .
The dog steralisisation progaramme ran into trouble earlier this year . Until then 5,600 dogs had been steralised out of 8,000 dogs in the hill station .