Snow heavy winters back in Himachal!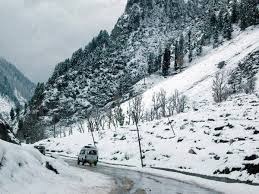 The sudden heavy snowfall across Himachal Pradesh over the weekend should silence all the chatter by idlers every winter that it doesn't snow anymore like it used to in the old days !
Also it is unusual to get the season's heaviest fall in mid February like it did this time . Most of the high and mid hills are deep in snow just like the old days .
Many areas in upper Shimla hills ranging from 6000 ft to 8000 ft are under 2 to 3 feet of snow . And the snow is powdery and lasting as if it were peak winter .
This time there was even snow on Christmas Eve and New Year's Eve after many years . Followed by regular spells in January .
Last year Shimla and Kullu districts had some of the heaviest snowfall in the last over 20 years . In tribal Kinnaur last year's snowfall was one of the heaviest in the last 60 years or so .
Yet to my surprise the idlers cannot help muttering about less snowfall as they bask in the warm winter sunshine .
Like the old village folk say the weather system has to be seen over a long period of time, may 20 to 30 years to understand .
There maybe dry lean winters in between , but these give way to extremely cold and snow heavy winters as is the case in recent years .
Of course nature will always have its secrets and surprises making it even more mysterious for all of us !