Snow bound Manali-Leh road opens for vehicles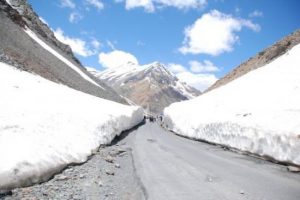 Shimla: The 485 km long high altitude Manali-Leh road has been cleared of heavy snow after a gap of seven months.
A spokesman of the Border Roads Organisation(BROs) said the road has been cleared to allow vehicles to move on this road.
Late snow this time delayed the opening of the road.There are several high passes on this track.At some places the snow was 50 feet deep.
But tourists have to watch out for sudden snow and blizzards even in high summer on is treacherous route.
The Manali-Leh road carries army supplies to landlocked Ladakh. It is also popular with foreign tourists.