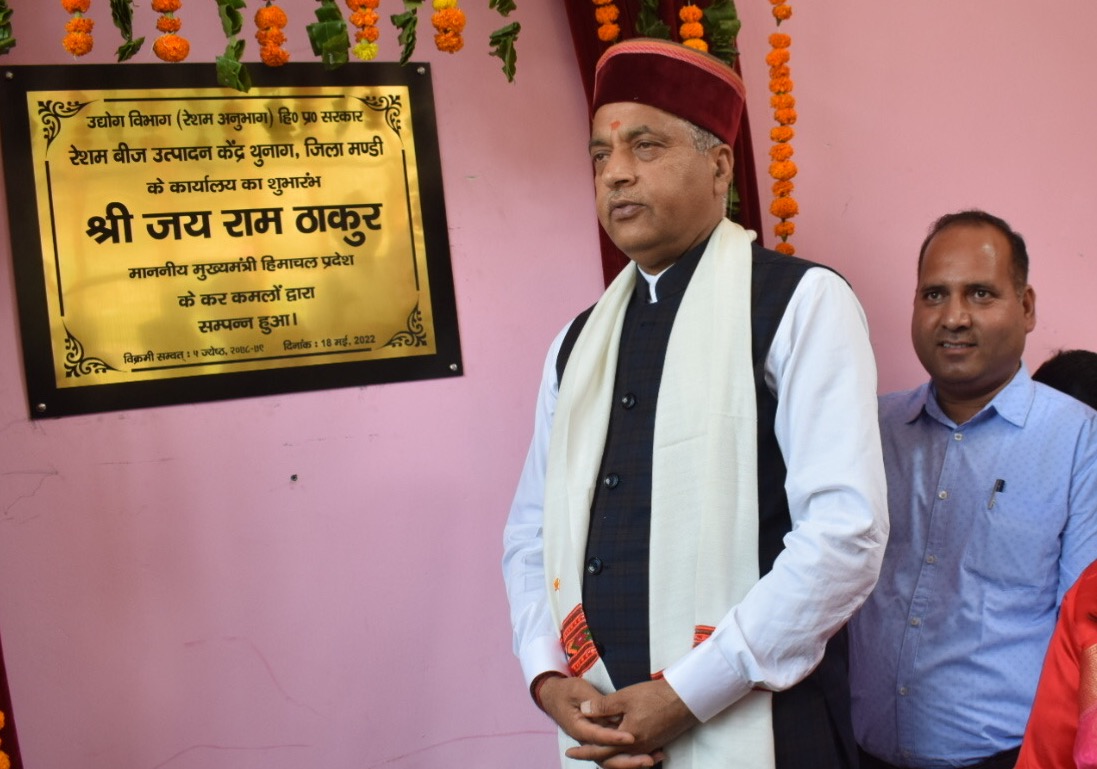 Shimla : Himachal Pradesh Chief Minister Jai Ram Thakur today inaugurated the second Silk Seed Production Center of the state at Thunag in Mandi district to meet the need of silk seed production in Himachal Pradesh and to strengthen the economy of sericulture farmers.
Around 12,000 farmers were involved in sericulture in the state.To meet the requirement of 7500 ounces of silk for the state, 2500 ounces of silk was being produced by Palampur, the first Silk Seed Production Center and the remaining 5000 ounces of silk would now be met by the Thunag Silk Seed Production Center which will help in the production of silk, which was earlier being imported.
The construction work of Silk Entrepreneurship Development and Innovation Center at Bali Chowki with an expenditure of Rs. 4.94 crore was about to be completed, which is claimed to be the first Centre in northern India.
Silk Center will soon come up at Bagachanaugi, Saroa, Dharot, Murah, Deem-Kataru was nearing completion with the cost of Rs 2.5 crore to promote silk industry in Seraj Valley. He said that Rs. 1.5 lakh per farmer would be provided to 200 farmers of scheduled caste category for construction of silkworm rearing house.
Besides this, Rs. 80 lakh has been provided to 200 farmers for silkworm rearing equipments and Rs. 28 lakh was being provided for mulberry plantation to 200 farmers of scheduled castes. Besides this, Rs. 50 lakh has been provided to 700 farmers of general category for mulberry plantation and purchase of silkworm rearing material. He said that these activities would give boost to the silk industry in the state besides generating self-employment opportunities.