Shimla's water has fecal matter : Report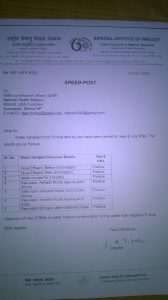 Shimla: The National Institute of Virology Pune has confirmed that Shimla's water continues to be filthy with fecal effluent and the deadly hepititus e virus.
What is shocking the water in many taps continues to be toxic despite this being discovered in late December last year.
According to one estimate around 15,000 people are already suffering from jaundice in the hill station.Six people have reportedly died even though the state government denies this.
The top lab of the country recently collected the samples from one of the river sources which supplies water to a third of the hill station.
It also collected water from water tanks where people are suffering from jaundice.
What is shocking is that despite treatment by the municipal corporation and the IPH department the test reports have confirmed that water continues to be infected with fecal matter.
After the report arrived from the Pune virology lab the civic body has advised people on Thursday to clean their water tanks. This has confused many who say if the main tank is infected what is the purpose of cleaning their individual tanks.
The jaundice infection has spread to the neighbouring hill station of Solan. The water of the Ashwani khud is so toxic that flowing for 30 km downstream to Solan it continues to be unfit for human consumption.