Himachal skill development plan makes a start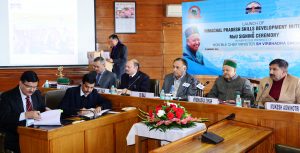 Shimla : The much hyped and delayed skill development programme by the ruling Congress government in Himachal Pradesh took off Monday with the signing of many pacts here.
17 MOUs of skill development were signed with various industrial organizations and sector skill bodies by the HPKVN.
In view of the large number of unemployed youth the Congress government had come up in its manifesto to promote skills of youth so that they are able to pick up jobs or work on their own.
It remains to be seen if it is able to make a difference.There is still no clarity on how it will be implemented.