Shimla's famed clarkes hotel threatened again by sliding hill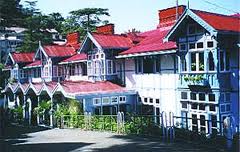 Shimla : The ongoing construction work to build a road and lawyers office block below the Oberoi's Clarkes hotel in Shimla has suffered a setback when a retaining wall collapsed here Wednesday
People at the site say the biggest concern is now the 115 year old Oberois Clarkes hotel building which could collapse if the slide continues .
The problem began in the night with the heavy leakage of a sewerage pipe which triggered the wall slide . The area is also located at a stone's throwaway from the towering high court building opposite .
With the sliding debris falling onto the busy cart road below traffic was frequently disrupted on the cart road causing inconvenience to commuters .
The road caved in for the first time in June last year when a leading builder began construction of a lawyers office block below this road .
But within days the old road above collapsed threatening the Clarkes heritage hotel located higher up .
Excavation work was stopped during the monsoon.The famous hotel was immediately emptied by the Oberios management in July . After the rains it was again reopened in October .
In December the state chief secretary S Roy had assured the state PWD would finish the road repair work by April .
But with today's wall slide it could now take several months to restore the road . But the immediate concern is the safety of the hotel .
The shutting down of this road has caused a lot difficulty as it connects to key areas like the state secretariat , high court  . Also it connects the cart road to well known residential areas of US Club , Richmond and among other areas in downtown Shimla .
When contacted Shimla's deputy mayor told Sun Post , "I think the entire Clarkes hotel could come down . The government has blundered by allowing heavy machinery at the construction site which has disturbed the entire fragile hill side."