Himachal govt relief to HRTC bus accident victims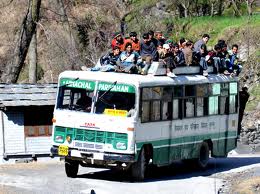 Shimla : In view of the number of bus accidents in Himachal Pradesh the state government gives monetary relief of many kinds to the families of the victims .
In a written reply in the state assembly the state's transport minister G S Bali said Wednesday that in case of death of a passenger of the HRTC bus the state roadways offers Rs 10,000 to the families of the dead person .
"Also the concerned deputy commissioner follows the relief manual by offering Rs 150,000 (1.5 lakh) to each person's family,"he said.
"The state government also offers Rs 100,000(Rs 1 lakh) since 2004 ,"Bali said .
If a head of the family of a BPL family dies in a HRTC bus accident an additional Rs 20,000 is given by the government to the family of the deceased .